Hall of Fame v1
Hall of Fame v1
The HOF ring package is our best seller from year to year! With the HOF ring package you get to customize almost every aspect of your ring which includes: Ring Shape, Color, Finish, Name, Record, Year, and Favorite Number and a custom Inside Engraving. 
See below pictures to get an idea of what yours would look like today!
*To leave a field blank use NA or - on your order form
**For pre-orders use "pre-order" in your customization form
View this video to size your finger at home: https://www.youtube.com/watch?v=Oqpm1gKqXzM (we have no affiliation to Elfi Jewellery)
As soon as your ring order gets placed it will be put into queue and started on ASAP.
Rings take roughly 10-12 weeks due to their complete custom nature and each being hand made.
Once your ring is ready it will go through a final inspection before being 2-3 day shipped. Once your ring passes final inspection you will be sent a tracking number via email.
Ring Size - We offer rings sizes from 8, 9, 10, 11, 12 (Legend is customized to any size). Rings weigh ~4oz to 8oz (vary depending on ring).
Ring Finish - 14k or 18k Gold, White Gold, or Matte Black Finish
Ring Materials - Brass, Zinc, Stainless Steel
Customer Reviews
04/20/2022
Anonymous

Canada
I recommend this product
Championship Ring
Awesome. League members either hate it cause they don't have it or love it cause its amazing.
04/17/2022
Anonymous

United States
I recommend this product
Satisfied, took a while to get there.
The ring is great! Weight, detail, look overall is worth every dollar. CFR helped me with an early edit after I made a mistake on a ring detail. The one pain point was the 13 week 4 day wait for the ring with no communication in between. I initiated 3 status checks with CFR's. The initial status check went without a response from CFR. The latter two were helpful updates on inspection of the rings and shipping dates. It is just a suggestion that CFR should keep the customers engaged with at least 1 check-in at the 8 week mark or so. Overall, I am a satisfied customer and will recommend CFR to my friends.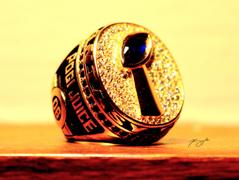 04/17/2022
Anonymous

United States
I recommend this product
Great
I love it and will get another one once I win again lol
04/13/2022
Anonymous

United States
I recommend this product
Worth
Got two - one for myself as a champion and one for a league I'm commissioner of. Both rings are absolutely amazing. Would recommend.
04/12/2022
Anonymous

United States